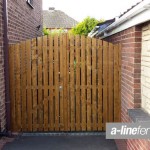 If you are looking for garden gates in Huyton to complete your fencing project, speak to A Line Fencing. We build unique timber gates for any sized openings, gardens, backyards and driveways. You will no doubt have worked hard to make your property look good, taking pride in everything from your garden fencing to your lawn, but what about your garden gates? When it comes to providing ease of access as well as security, nothing works better than a wooden gate, nor does anything look nearly as good. Wooden garden gates offer a more natural look than other materials. While there is beauty in wooden gates, it does not mean that they aren't strong. Wood is naturally resistant to deterioration by rot or fungus.
Wooden garden gates can be a stunning feature in any home. In Huyton, garden gates are a specialty of A Line Fencing. Our team of professionals focus on many types of bespoke designed timber garden gates. We have an impressive range of timber gate options, and we can offer comprehensive advice on what is the best solution for your precise requirements. We also provide a professional installation and fitting service, and this is completed by our experienced team of fitters.
Choose new garden gates in Huyton from A Line Fencing's brochure. You can choose from our ready made garden gates, or if you have specific requirements, we can design and supply what you need. We also provide an expert fitting service and can fit your garden gate to fencing, timber posts, concrete posts or, if preferred, we will attach wall fixings for the gates. For more information about professionally made and fitted garden gates, contact A Line Fencing. It is also believed that properties with garden gates are regarded more valuable because of their increased security and aesthetic value. If you need garden gates, you can rely on our expert craftsmanship and attention to detail for a superb finish to your property.