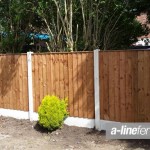 Garden fencing in Wavertree can be installed quickly and efficiently by our very experienced fitting team. We can offer a variety of wooden fence panels or concrete fence panels depending on the purpose of your fence. If you are looking for a small and neat fence to demarcate the boundaries of your property there are a number of concrete options. These will also keep a small dog inside the property. The fence and posts are concrete and are therefore immensely durable. They will last far longer than a wooden fence. They will never rot and when we fit the posts and panels all it will need is a little paint to keep it looking good as new for many years. The concrete panels come in a variety of sizes and designs. It all depends on the way you want you use the fence. A fence that will give your garden privacy will need to be a lot higher than a fence to keep a dog from roaming.
When you need a new fence in Wavertree, garden fencing experts are the people you need to call. Our team can give you valuable advice on what type of garden fence you need. They will measure the boundaries of the property and after discussing what type of fence you want they will offer you a quotation for the supply and erection of the fence. If you choose a wooden fence you can have wooden or concrete posts. Wooden posts blend in with the fence better than concrete posts but the concrete posts are far more durable and longer lasting. The posts are concreted into holes at exactly the correct distance for the fencing panels to fit in snugly. They are normally buried to a minimum of around 2 feet. This forms a strong structure to hold the panels.
Garden fencing in Wavertree can give you much needed security. Contact A Line Fencing today to arrange a visit and free quotation for garden fencing. We are expert in the field of garden fencing.