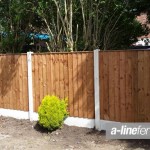 If you are after quality garden fencing in Wavertree then we can help at A Line Fencing. We specialise in all types of fencing, particularly timber and garden fencing. If you have decided to replace your old garden fence, we can advise on the best possible solution for your property. From the type of timber, wooden fencing styles and installation of the fencing, we can provide suggestions to ensure you have the perfect garden fencing. Perhaps you are looking for a perimeter fence, or to close off certain areas within your garden? Whatever your requirements, speak to our professional fence fitters.
Do you have adequate fencing around your garden? In Wavertree, garden fencing is what we do best at A Line Fencing. Solid fencing can deter any would be criminal. Without it you leave yourself open to a whole host of potential crime related problems. Along with greater security, your home will also look smart and well looked after. Our fencing provides aesthetic appeal that will impress passersby, as well as the security you need. The materials used in our durable and good looking fencing is sourced from trusted outlets ensuring a top quality product.
Garden fencing in Wavertree is more than a demarcation of your property. Our timber garden fencing is great for keeping animals in (or out) and will provide a boundary for kids to roam and play. It can also be the element that totally changes the appearance of your property, giving your home a distinctive and unique look. Contact A Line Fencing if you are interested in installing garden fencing on your property. Our quality garden fencing is easy to install, and our skilled fitters will have your new garden fence up in the shortest time possible. We are also open 7 days a week, so you are welcome to stop by on a day that is convenient to you.