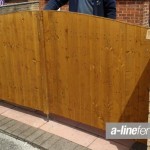 A Line Fencing builds handsome fencing and the garden gates in Wavertree to secure it. People are busy and sometimes the condition of the garden gate you had installed for security falls into disrepair without notice. Kids, can test the durability of a gate better than anything the weather elements throw at it. More often than not, the kids are the ones who use the gate to enter and leave the garden. They and their friends fail to close and lock it most of the time. They will swing on it; climb over it and use it as a finish line. The gate makes a perfect backboard for tennis practice and other ball activities. It is the best place to hang the target. The dog loves it. He can spend all day scratching at it in an effort to get to the other side.
The weather takes its toll on what is supposed to be your security gate. When weather is rough in Wavertree, garden gates are slammed open and closed by winds. If snow builds up in front of the gate, it becomes the tool used to clear the snow by repeatedly pushing it back and forth against the snow pile until the path is clear. Your fence may be in good shape but the gate could be an eyesore that is more obstacle than security. If you want a durable good looking timber fence at A Line Fencing, we can build it for you.
When we build our strong garden fences, the garden gates in Wavertree is part of the deal. However, if you just need the gate replaced, we can do that. Using your choice of timber we can blend the new gate to the existing fence. While we are there, we can check the fence and make any needed repairs. Contact A Line Fencing when your garden gate needs replacing. Our installers are the best in the business and our product can withstand the forces of daily life. Now would be a good time to add the hardware that will allow the gate to function as security. Self-closing spring gates, strong bolt locks and heavy duty hinges secured so the bolts don't loosen will give you a durable and dependable gate.