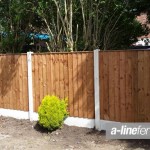 Fencing in Whiston is one of the best investments you can make in your home. An attractively fenced garden adds value. If you were considering the sale of your home, a garden fence already installed would be a selling feature. A buyer with young children sees an existing fence as one task they will not have to undertake. At A Line Fencing, we build and install beautiful natural timber fencing. Surround your garden with beauty and privacy. Have you ever had a garden party or barbeque while the neighbour's dog barked at your guests? Maybe you planned a relaxing afternoon on your patio with a good book only to have the neighbour children shrieking and rough-housing? You need a privacy fence.
Garden fencing is a home improvement project you want to undertake only once. Therefore, it's important to choose professionals in the Whiston fencing industry. A Line Fencing will install their fencing products to last. We don't do things by halves so you can count on a straight, sturdy fence that will still be straight and sturdy for many years. Fence installation is all about planning. Our installers will inspect the area for fencing to make sure no property boundaries are violated and no easements are encroached upon. We will also discuss the pluses of each type of natural timber with which we work. There are multiple styles and heights as well. Don't forget the garden gate. We can customise a gate of your choice for a welcoming entrance to your garden area.
Good fences make good neighbours declared poet Carl Sandburg and your fencing in Whiston will confirm the truth of that statement. Don't put off the benefits of erecting a privacy fence that does double duty by providing a measure of security. Kids and pets can safely play in the garden with less risk of running into the street. The fence is a deterrent to crimes of opportunity so ask us about our commercial quality fencing. Contact A Line fencing and let's talk about your fencing needs. When we give you a quote, it will be after we know exactly what you want in a fence. The price we quote will not go up with add-ons and extras. We will stay within your budget and provide you with a top quality garden fence.