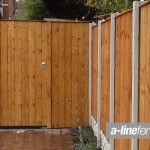 In ancient England, there was little need for fencing in Whiston. Residents lived on large swathes of feudal land, separated by moats, high towers, and guardsmen with crossbows and swift arrows. These days, land allotments are much smaller, and people don't generally aim fast, sharp things at one another. They do live a lot closer to each other though, and they still want a measure of protection from their neighbours. A fence can offer that protection, keeping out uninvited visitors from your yard. It's a clear, visible boundary that marks the beginning of your territory. This is especially helpful for corporate entities, and for communal spaces like schools and public gardens.
For people who live in Whiston, fencing is a good way to maintain privacy. It keeps prying eyes out of your personal business. This is especially helpful if you spend a lot of time in your yard. Most don't like that awkward feeling of being watched and a fence can help obstruct the view. In addition to sealing off your personal space, fences also improve the aesthetics of your home. A nicely done wood fence can complement the exterior décor of your house, while a live fence can invite birds, flowers, and butterflies into your home space. Installing a good fence raises the cash value of your home. It also offers peace of mind, by keeping kids and pets within a safe distance of the house.
Now that you're convinced to sign up for fencing in Whiston, you might be wondering what you need to complement your new fence. A nice new lawn would be perfect, and A-Line Fencing offers turf installation. You will have thick green grass in a matter of weeks. We can build you a deck to go with it, or lay paving stones that blend in perfectly. Another great way to finish your lawn is to install one of our fitted timber gates. And if anyone damages or vandalises your fence, we offer repair services at affordable rates. So whatever your fencing needs are, we're equipped to get it handled. Contact A-Line Fencing for more about our fencing. Let's find a way to define some beautiful boundaries for your office, school, or home.