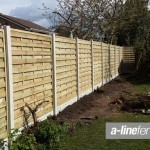 While selecting the right kind of service to install fencing in West Derby, it's wise to conduct a detailed analysis beforehand. At A Line Fencing, we believe that you are the best judge of what exactly you need, how much you wish to spend and why you feel you need the fencing. We specialise in a variety of fencing and fencing products and accessories, but garden and timber fencing are our specialties. Along with these products, we also provide top-quality industrial and steel fencing, palisade fencing, mesh installations, timber gates and attractive designs in garden fencing. Our clients are spread across Liverpool, Merseyside, St Helens, Widnes and beyond.
We also specialise in all kinds of building work and in West Derby, fencing is one of our main focus areas. We began operations in 1998 as a fencing company that provided garden fencing to clients in Liverpool. Since then, we have expanded our business to include block paving, timber decking, garden gates, steel and wrought iron fencing etc. Our trained and experienced team can provide you with all the right inputs based on your requirements, taste and budget. Building a fence is not just about constructing a durable, sturdy one, but it's also about ensuring that it clearly marks the boundaries of your property. It also helps to keep out intruders, pests and criminals, while keeping children and pets inside the limits.
Fencing in West Derby required by the local community includes school fencing, post and rail fencing, concrete and mesh, palisade type, timber or steel gates. For higher security, some people may wish to install hi-tech security features. In rural areas, clients may want special types of fencing to keep out rabbits or to keep in their pack of hunting dogs. Clubs and recreation spots may need tennis court fencing or perimeter fencing to mark off different areas inside the club or resort. Contact A Line Fencing for more information and advice on your fencing needs. Whatever the need, it's important to have your fence installed professionally so that it remains secure and strong and fulfills the purpose for which it was installed.