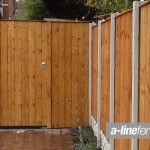 Why not get creative with your plans for fencing in Bootle?  A Line Fencing installs all types of fencing for all purposes both domestic, commercial and industrial. Our fences are manufactured from timber and steel but there is another material you may not have considered and that is concrete. Concrete fencing is ornamental but can still be a deterrent to crimes of opportunity. Solid concrete fencing lend a feeling of substance to the property. Of course if that's not your style and you want garden fencing we install timber fencing in your choice of height and style. Do you want complete privacy and security for your garden area? We have attractive timber panels in different designs and woods built to privacy heights. Add our solid timber gate and complete your creation of a private and secure garden area.
We think timber panel privacy fencing allows you to surround your garden with beauty. For homes in Bootle, fencing from timber panels is a natural backdrop. Create a blooming garden and ornamental shade trees along the fence line to soften the ambiance. Your family will enjoy their own private oasis. Free standing commercial buildings benefit from privacy fencing between their neighbouring businesses. It helps control the appearance of the environment directly surrounding your building even if neighbouring shops are neglectful of their own. All fencing installation is subject to covenants and restrictions. You need to get a survey of your property showing the boundaries and check with local authorities to be sure fences are allowed.
A Line Fencing in Bootle offers fencing solutions for all residential, commercial and industrial facilities. We install palisade fencing to secure schools, businesses and industrial complexes. In such instances, the safety and protection of people and property within those boundaries is the aim. Fencing can fulfill its purpose and still be attractive. Contact A Line Fencing when you consider adding fencing to your residential or commercial property. We guarantee our products and workmanship will meet with your satisfaction. You can expect a fence that is durable; lasting many years. Among our fencing services to keep in mind is fence repair and refurbishment. We'll make your old fence like new again.