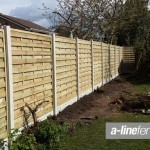 Protect your property, privacy and person with help from the right fencing companies in Billinge. At A Line Fencing, we specialise in a wide range of building and construction works, though our core skills were developed as a fencing company in 1998. We now offer comprehensive services in block paving, timber decking, industrial and domestic fencing, garden gates, steel/wrought iron gates and railings. We have a dedicated team of Liverpool contractors, available 24×7, who provide our clients with services in and around Liverpool, Merseyside, St Helens, Prescot, Widnes and the North of England. Over the years we have developed strong ties with suppliers of the best paving, fencing, decking and wrought iron products. We are proud of our reputation for providing top-quality products, cost-effective solutions combined with a customer-centric approach.
It's important to select the right company when you want to install fences for commercial or domestic properties. In Billinge, fencing companies offer many different solutions but not all of them would suit your requirements or budget. We provide customised solutions to your needs and work with you right from the planning and design stage till final installation and handover. Fences serve many purposes. The main reason for putting up a fence is to demarcate the extent of your property clearly and establish your legal right over it. Other reasons include control of access, prevent entry of intruders and pests, deterrence of criminals or invaders of your privacy, safety and security. Fences also help to keep pets and children safe within boundaries. They also add value and attraction to your property. Smaller fences like garden fences help to separate certain areas from the main property. They are available in a wide variety of designs, styles, materials and dimensions.
Fencing companies in Billinge are the ideal solution for clients with large properties. Billinge village boasts of several celebrity residents from the fields of sports, the arts, entertainment and business. It's important for them to protect themselves, their families and property against theft and breach of privacy. If you are looking for professional fencing companies, contact A Line Fencing. We provide international standards of products and services with a local, personalised touch.