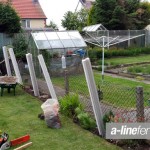 If you are looking for good quality, cheap garden fencing in Speke, A Line Fencing is the place to call. We specialise in all types of fencing but garden fencing and timber fencing are our speciality. There are a number of types of garden fencing and our professional fence fitters can offer advice on the best fence for your requirements. This may be privacy from neighbours or a fence to keep your pets in your garden. You may just want to enclose your property by placing a fence on the boundary. We usually find that timber fencing panels are the most cost effective way of enclosing your property. Wooden driveway gates are hand crafted and styled to fit any sized opening and go equally well with wooden fence panels, concrete panels and walls.
If you are looking for a different more durable way to enclose your garden you may want to consider concrete fencing. In Speke, cheap garden fencing depends on what type of fence you require. Concrete fencing comes in many different styles that will suit almost any garden or workplace. It is particularly durable as it can take harsher weather conditions than most other fencing. Some people choose to place concrete fence panels at the base of their wooden fence panels and keep the wood away from excess water. This will prevent rot and decay although the wooden fence panels are thoroughly treated.
We are delighted to be able to offer cheap garden fencing in Speke. Contact A Line Fencing today or make an appointment for one of our fencing experts to visit you. We also supply garden gates which can be fitted between the front and back garden. These can be fitted to fencing, timber post, concrete posts or walls. We have all the skills and quality timbers to build and fit all sizes and styles of garden gates. Our range of double timber gates is large and can be fitted as garden or driveway gates and even as a gate to your decking areas or side entrance.