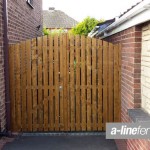 Garden gates in Rainhill can be designed to satisfy both the uncomplicated individual and the experimental person.They are not only an attractive landscape element, but are also considered a functional device. Some factors have to be considered before choosing a gate that is right or you and your home. This is because they serve several purposes, so you'd want to choose one that agrees with all of them. Garden gates can be used as a transitional element between outdoor areas, for simple lawn decoration and even a security measure for your children or pets when they play outside. You'll also need to take into consideration the size that will best suit your needs as well as the closing or locking mechanism. This is especially crucial when it comes to security matters.
Whatever you decide, your best bet is to hire the professionals at A-Line Fencing to handle the design and installation. In Rainhill, garden gates from A-Line Fencing are built using timber by utilising quality standards and are hand crafted and styled in order to suit individual requirements. Using timber for your gates comes with its advantages. First, they are cheaper than other materials such as metal or plastic. Because of this, it is easier to have fully-enclosed gates, as opposed to having simple bars which come with views to the inside thereby compromising your security. Secondly, timber gates are strong and can withstand the weather elements. With application of proper protective treatments, your gate will last longer over the years. This will also ensure that the gate ages beautifully over time, thereby adding to the aesthetic of your garden. Additionally, timber gates are easy to repair so in case of any damage; you won't have to spend a fortune in repair materials and expertise. Finally, timber gates are environmentally friendly, and add a touch a personality to any lawn or garden.
If you are interested in installing garden gates in Rainhill, contact A-Line Fencing today. Our team of craftsmen delivers a professional service and puts its training to proper use. The gates we manufacture and install are treated in order to prevent wood rot and prolong their lifespan.