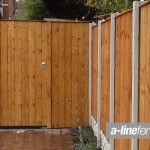 When you are looking for quality timber gates in Liverpool, you could start with A Line Fencing. Not only do we specialise in different types of timber gates, but we can happily provide you with quality fences and other accessories. In today's world, it's a precautionary measure to have your house, business or any other type of property securely fenced and protected. However, that does not mean your fences and gates should look dull. On the contrary, when you pay us a visit at A Line Fencing, you will have to chance to properly choose your products and consequently, increase your property's curb appeal.
Timber gates come in a variety of styles and materials. For customers in Liverpool, timber gates are both manufactured by our own team and professionally installed. Our team is highly skilled and experienced and can advise you on the most suitable timber gate for your needs. Furthermore, our products are competitively priced, and we are confident that you won't be disappointed with the end result. If you would like to have something made to your own specifications, don't hesitate to let us know. We manufacture and supply quality gates to your specific requirements. If you have an unusual opening, or a larger than usual driveway entrance, we can assist with the perfect timber gate for your property.  A timber gate can add a natural stylish look to your property. If you are also purchasing wooden panels, there will be minimal visibility into your enclosure, and if you value your privacy, this is the best option available on the market. If you maintain your wooden panels and your timber gates in good condition, they will last for many long years.
For the best timber gates in Liverpool, don't hesitate to talk to our staff members. We will be pleased to assist you and provide you with the high-quality products for your property. For any further details, please don't hesitate to contact A Line Fencing. You can choose from a variety of options and our team will supply them to your exact needs and requirements.