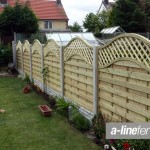 For garden fencing in Maghull, you can choose from several products. Timber products are the popular choice for residential gardens. Our selections at A Line Fencing are many and varied. Choose tanalised wood and let it weather naturally or stain it. You can paint it in whatever colour best compliments your house. Ornamental fencing used to define property lines is aesthetically pleasing especially when bordered with perennial greenery and seasonal flowers. It need not be especially tall to do the job of setting a clear boundary without alienating the neighbours. The various top cuts from which to choose looks attractive to those on both sides of the fence. Add one of our garden gates with a sturdy latch you can lock from the inside. It's a friendly reminder that discourages unannounced visitors from walking to your back door.  
If you've already alienated the neighbours or they you, then opt for the taller fence and border the inside with evergreens. You'll have the privacy and security in Maghull garden fencing design to suit your needs. If you entertain a lot in summer months you won't need to worry about neighbours gawking at your guests while cutting their grass or insinuating themselves into your gathering. You can relax on your patio without your presence attracting unwanted over the fence chit-chat. Build the fence for your children so your garden is not part of a continuous open area where the whole neighbourhood of children and dogs feel free to roam. They can wait for an invite just as they would before entering your home.
Whatever purpose your garden fencing in Maghull serves, it will serve you better if it's a quality built fence by A Line Fencing. Our twenty years in business has earned us the position of a leading supplier of fencing throughout the UK. We build fences to last that are guaranteed sturdy and not given to unsightly sagging. Contact A Line Fencing and we can help you with ideas for your garden fencing and provide a free, no obligation price quote. We think you'll find a favourite among our designs for garden fencing. There are no limitations so if you want a garden fence from concrete, we can do that for you. You'll like our selection of garden gate designs and fittings.