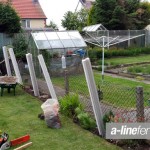 We supply good quality cheap garden fencing in Maghull at very affordable prices. Our garden fencing is of incomparable quality and when installed by our professional fence fitters will last many years. We have a number of timber fence panel s in different designs to suit almost any requirement. We also manufacture, supply and fit timber gates to enhance the look of your timber fence.  We make sure that the gate is hung correctly so that open and closing the gate is effortless no matter the weight. Another popular fencing material is concrete which is longer lasting than timber and can be very decorative. When installing the concrete fence we use concrete posts which are immune to pest attack and rot free thereby saving any necessity for maintenance.
Your property needs to be enclosed to protect it from unauthorised entry. In Maghull, cheap garden fencing is available in a number of different styles. There is a wide choice of materials depending on the security level required. Palisade fencing is attractive and open while still providing a secure boundary to the property. It is a better method of enclosing your business than a wall. If the inside of the property is hidden by walls the intruders cannot be seen from outside and are in a measure safer. With palisade, they can be seen easily from outside as well as inside the property.
We are specialists who supply cheap garden fencing in Maghull. Contact A Line Fencing today or visit our showroom to see the wide variety of styles and designs of fencing we supply. We have many years of experience in fencing as well as paving in block, natural stone and flagging. We are known for our well-made tarmac driveways and repairs to patio and block paving areas where we replace the worn or broken material expertly. We supply a timber decking service for homes and gardens throughout our area using modern or traditional materials. We also lay artificial grass and freshly lifted turf in your garden. Small patches of grass can be difficult to maintain and this is where artificial grass is best used.