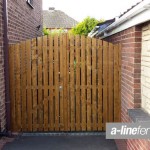 The garden gates in Prescot you want for your garden are built by A Line Fencing. We hand craft our timber gates and style them to suit the look and size our customers prefer. Why not get a gate that is built to your opening specifications and still get the competitive price? In addition, we have a selection of ready-made gates from which you may find the style you like. Our timber gates can be painted or stained to whatever colour you want. However, if you like the natural wood look we recommend timber protectives be applied and we'll do that for you.
Our garden gates are usually purposed to serve as access through fencing. For some homeowners in Prescot, garden gates are needed to block access to your back garden through the space between your garage and house. You access the garden from your back door but you don't want intruders waltzing through from the street side. Depending on how your house and garage is configured on your property, driveway gates offer protection for fenced property. This works especially well if your garage sits at the back of your lot and the back garden is fenced. Closing off the driveway with a garden gate offers privacy and more safety for children and pets playing outside.
At A Line Fencing we install fencing and garden gates in Prescot. Sometimes neighbour families whose yards border a fence become such good friends and have children going back and forth all day. Why not add the convenience of a garden gate between the two gardens? Perhaps a gate the children can easily open and close. Let them swing on it because our gates are sturdy and built to last. Contact A Line Fencing if you're thinking you want a garden gate with or without fencing. Set within an arbour our gates make a lovely entrance to your front walkway. Call us at A Line Fencing or stop by and view samples of our custom garden gates and brochures of our ready-made gates. We're fully insured and our customers' satisfaction is guaranteed.