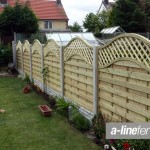 When you are considering boundary fencing in Widnes, speak to A Line Fencing. We have a number of options available, both ready-made and those that can be customised to your needs. Boundary fencing can be erected for various reasons, including having a proper demarcation between your property and your neighbour's. You could also opt for boundary fencing within your own property as well, such as when allocating a spot for your home garden or having a safety measure around the pool, especially if you have small children or pets. Some people prefer to have 'green fencing' in that they use live fencing by incorporating plants or bushes onto wire fencing. This enables them to preserve the environment and keep in theme with nature.
To ensure that your property is safe in Widnes, boundary fencing is an excellent choice. We offer a range of different fencing types, all of which are suitable to be used as boundary fencing. While timber fencing is our speciality, we also offer palisade fencing, steel security fencing, and concrete fencing as well as mesh installations and supply. Palisade fencing is ideal for a commercial property. It is made from cold-rolled steel rails which are also known as pales. These are attached to horizontal-running rails, and then connected to vertical steel joists. A sturdy, long-lasting type of fencing, it is suitable for business properties as its design makes it difficult for any would-be intruder to climb. It also sturdy in construction as it creates a tough physical barrier that is difficult to break. Mesh fencing is also suitable for a commercial property. It can be used to enclose a school's property. It is versatile, easy to install and durable.
You could choose timber fencing as your boundary fencing in Widnes. A wooden fence is a beautiful addition to your property. Not only will it add aesthetic value to your property, but will also increase its value. To find out more about our boundary fencing options, contact A Line Fencing. We are available for the supply of your new boundary fencing, as well as the installation by our expert team.