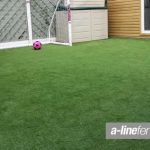 For top quality turfing in Knowsley, A Line Fencing is available to assist. Regardless of the size of garden that you require turf for, we can help you out. Freshly grown and installed turf is an excellent way to give your garden a facelift. It will also increase the value of your property if you are planning on selling in the future. Prospective homebuyers are impressed with a well-established garden with a beautiful lawn. Installing turf will result in the garden you've been hoping for, without the long wait typical of planting grass seed.
For your garden's makeover in Knowsley, turfing from A Line Fencing can be delivered within 24 hours of ordering. Alternatively, speak to us about when you would like it delivered and we will deliver it to your door. Our expert team will have your new turf laid in 1 working day. We are pleased to offer our professional services, 7 days a week. Sourcing our turf from respected suppliers, Forest Landscapes, you can rely on the quality and longevity of your new turf. Laying turf in your garden has a number of benefits that, not only add beauty to your garden but offer practical benefits too. A lawned garden helps with drainage by reducing erosion. A beautiful lawn is always a plus with children. Playing football or having a picnic is just not the same with a lawn. Installing turf also means you are doing a bit for the environment. It helps clean the air, trap carbon dioxide, improves the soil, decreases noise pollution, and can help by reducing temperatures.
Turfing in Knowsley is available from A Line Fencing. For more information about our turf, or to request a quote, contact us today. We also supply artificial turf. This is an excellent alternative to natural turfing and can be used for sports fields, or for those who wish to have a grassed area minus the maintenance that comes with it. Our rolls of artificial turf are available in rolls which we lay and finish to the best quality making your garden look lovely all year round.