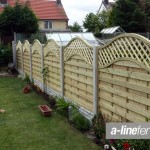 Cheap garden fencing in Liverpool is available in a range of options. There may be a number of reasons why you want garden fencing. Perhaps you would like a perimeter fence around your property. This is a sensible idea, particularly if it is for security reasons. Good quality and properly installed garden fencing improves security. It plays a big role in keeping the inside in and the outside out and will prevent unwanted animals, unauthorised vehicles or people from entering your property.
Privacy may be another reason why you are considering garden fencing. In Liverpool
, cheap garden fencing can be purchased to increase your privacy. We have a range of top quality timber garden fencing for you to choose from. We also have other options such as palisade, picket fencing as well as steel, mesh and security fencing. Garden fencing can also be used for decorative purposes instead of security reasons. Timber fencing has a high aesthetic value in that it is a good looking option, and is also a sturdy fencing option. Another factor that isn't always considered is that fencing can help reduce noise. If your property is on a busy street, the noise from pedestrians and the traffic can be intrusive. With garden fencing, the volume of noise can be significantly reduced.
Cheap garden fencing in Liverpool is available at A Line Fencing. We offer tantalised timber fencing panels at affordable prices. Our timber fencing panels are ideal to be used as a garden fence, and what is more, they are budget-friendly. Cheap doesn't mean poor quality. With us, it means excellent quality and value for money. If you are looking for cheap garden fencing, be sure to contact A Line Fencing. Speak to us about your requirements and we can assist you with expert advice on the most suitable type of garden fencing for your property. Our team of experts is also available to install your garden fencing. If you are installing garden fencing, have you considered an entrance to your property? We offer a range of both driveway and garden timber gates that will complement your new garden fencing.