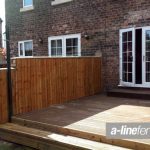 Choose top quality fence panels in Aughton when you are planning on installing a new garden fence. Fencing is an excellent way to keep your property secure. It is also an excellent way to demarcate your property. If your current garden fencing is looking worse for wear, perhaps it is time to replace it with a new, sturdily built fence. Consider timber fencing for your replacement fencing. Timber fencing is one of the most popular choices for garden fencing. As it has a number of benefits over other types of fencing options, it is easy to see why it remains a popular choice among homeowners.
A timber fence adds aesthetic appeal to any property. In Aughton, fence panels that are treated against rot and fungi are available from A Line Fencing. We specialise in timber fencing and gates, as well as other types of fencing such as palisade, mesh and security fencing. All our timber fence panels are made to the highest of standards, designed to last, and are easy to install. If you are interested in timber fence panels for your new garden fencing, speak to our expert team for advice and suggestions. We can guide you in making the best choice for your needs. Our installation team is also on hand should you need your new fence installed. We also offer a range of garden and driveway gates. These can be customised to suit your new fencing and will add the final touch to your fencing project.
Fence panels in Aughton are carefully manufactured to meet the requirements of our customers. As specialists in garden fencing, we are happy to answer any of your queries regarding our wooden fence panels. We also offer free advice about the different timbers, and wooden fencing styles and the different functionality requirements needed from your garden fencing. For more information about our range of fence panels, contact A Line Fencing. We also offer a repair service, where we can replace the damaged fence panels of your current fence with new fence panels. Choose our top quality fence panels for an outstanding new fence!