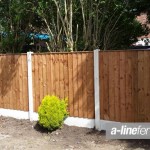 Finding cheap garden fencing in Rainhill is a top priority when you are planning on upgrading your property. Cheap doesn't mean inferior quality, especially when you use the services of a professional company. A top quality fence means durability, ensuring your property is safe from intruders, while increasing its aesthetic value. When you are looking for good quality, affordable garden fencing, pay us a visit at A Line Fencing.
We offer a range of competitively priced fencing that is suitable for all types of gardens. In Rainhill, cheap garden fencing is an area we specialise in. As we have a range of different types of fencing, you can rest assured that you will find the fencing that is perfect for your property. If your property is in a busy area, you may want to consider our steel options. These include palisade, mesh and security fencing. On the other hand, as we are timber fencing specialists, we can also offer an excellent range of timber fencing. All our timber fencing is sourced from responsibly managed woodlands, and is treated to ensure protection from insects and rot. Our timber fencing is also very competitively priced, so why not speak to us for a quote? We are happy to cut the fencing panels to the size that best suits your requirements. Not only do we supply excellent quality timber fencing panels, but we also offer an expert installation service.  When you use our services, you will get cheap, quality fencing and an excellent installation service!
When you are looking for cheap garden fencing in Rainhill, your search stops at A Line Fencing. Known as specialists in all types of fencing, we can provide the services that you need. We also offer a range of gorgeous garden gates which will complement your new fencing beautifully. When you are looking for cheap garden fencing, don't hesitate to contact A Line Fencing. You will also be interested to find out that we offer an expert fence repair service too. If your fence has been damaged, we are happy to replace the damaged fence panels with new.  Change the look of your property and increase its value with our cheap garden fencing!