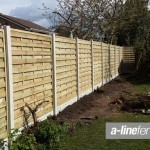 When you've decided to upgrade your garden fencing in Speke, find an established company sells excellent quality fence panels. A garden fence has more than one use. Other than demarcating your property, it also serves as a security barrier between your home and the world outside. Garden fencing is also attractive and a properly installed fence can do wonders to the aesthetics of a property. A garden fence will also add value to the property. Have you decided what type of garden fencing you prefer? Mesh fencing, post and rail, timber or concrete?
We offer a range of different types of fencing. In Speke, garden fencing can be timber fencing, palisade or concrete fencing. The choice is yours, and when you pay us a visit, viewing our range will make it easier for you to decide. While we are specialists in timber garden fencing, we do offer other types of material as well. All our fencing is carefully and professionally manufactured ensuring that you will purchase garden fencing that is made to last. The timber we use for our garden fence panels is sourced from properly managed woodlands. All the timber is correctly treated against potential fungi and rot. We are happy to cut your timber fencing to the size you need. On top of that, we also provide a professional installation service.
Garden fencing in Speke is available when you need it. To find out more about our range of garden fencing, contact A Line Fencing today. We have many years of experience in the industry and would be happy to assist you. You are also welcome to voice any queries about the style, type and cost of your new garden fencing. We offer a repair service as well. So, if your garden fence gets damaged for whatever reason, you can rest assured that it can be efficiently and professionally repaired. We would remove the panels that are damaged and replace them with new. The time for your property upgrade is now. Choose your new garden fencing and change the look of your property.