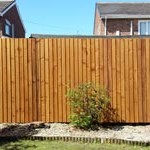 Choose our top-quality timber fencing panels in Burscough at A Line Fencing for safety, strength and elegance. We offer a comprehensive range of fencing products in timber and metal, gates, paving and decking, along with turfing services. Our clients include both residential and commercial entities. We have been in business for more than three decades. Over this period, we have established a reputation for excellent quality and services. Our prices are pocket-friendly and sensible. We work closely with a team of contractors in Liverpool, to offer clients the best. We specialise in garden, palisade, school,  concrete, security, mesh, post and rail and timber fencing. Whatever your need, our talented and experienced team can help you with it.
For property owners in Burscough, timber fencing panels help to demarcate the boundaries of your property. It is one of the most stylish fencing options available. It gives your property the look of a charming picture postcard. But it's not all about looks. Timber is a traditional, sustainable and affordable option. There are several great designs available and you can select the one that best suits your requirements. Compared to other materials, the sheer workability of timber allows the designer to give free rein to the imagination. You can also finish it in a variety of options such as paint, varnish, stains or even leave it in its natural, unfinished state. Lap panel fences are among the most popular designs. Timber fencing is very easy to install and if you're a DIY enthusiast, you could probably fence off a small area yourself.
Timber fencing panels in Burscough must be treated and protected before installation. This is to prevent deterioration, damage and infestation by pests. Timber may not have the lifespan of other materials, but with good care, your timber fence can last for up to 30 years. Contact A Line Fencing for more information and assistance. To adjust the height, you may have to make certain changes in design, if your land is not level. As those in the building industry know very well, timber is probably the most affordable material. All our timber comes from responsible forestry sources.