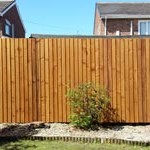 Wooden fencing in Orrell Park  is a great way to add style and security to your property. While there are other materials traditionally used for security fencing, wood remains an excellent choice. Wooden fencing is timeless. It also looks stunning. On top of that, when it has been correctly treated, it will remain sturdy and strong for years. When you are looking for quality wooden fencing for your property, speak to a company with years of experience and a sterling reputation.  A well-established company will also offer competitive prices as well as a reliable service. They employ specialists in the industry who can assist you with any type of wooden fencing.
You are most welcome to give us a ring. In Orrell Park, wooden fencing has risen in popularity among homeowners. There are number of reasons why this type of fencing has attracted the attention of homeowners. It is an affordable option, and with our dedicated and professional team, the installation is both affordable and quick. We can assist with different types and styles of wooden fencing panels for your garden fencing. Our team can also cut it to the size you need for your property. All our wooden fencing is properly treated with tanalith. This means it is protected from rot and insect infestations. It also means that it will last for years.
Wooden fencing in Orrell Park is an excellent choice for any property. Not only does it look good, but it is also strong and durable. With a sturdy wooden fence, you can rest assured that it will keep unwanted intruders out. For more details on how we can assist you with affordable and quality wooden fencing, contact A Line Fencing today. Our specialists can assist you with anything you need to know about the style of fencing and well as the type of timber best for your property. We also offer a repair service for your wooden fencing.  Should a section get damaged, we can replace the damage with a new fence panel, ensuring that it looks as good as new.  A wooden fence for your property is an excellent choice.