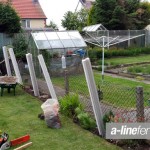 There are several reasons why fencing posts in Mossley Hill are an excellent investment. Without a properly constructed fencing post, your fencing won't have the support it needs. If you purchase an inferior product, it is simply a waste of your money. It won't last long and you will have to replace it. However, we offer both concrete and timber fencing posts, all of which are expertly manufactured and designed to last. While we are primarily a timber fencing specialist, we are proud to say that we do offer other types of fencing. These include palisade, post and rail, mesh and concrete fencing. We are open every day of the year and can assist you with any fencing inquiries.
Concrete and timber both have excellent properties. In Mossley Hill, fencing posts that we have on offer are robust and long-lasting. On top of that, our prices are competitive too. Along with fencing posts, we can supply your new timber fencing panels to ensure a sturdy, attractive and strong fence for your property. Our expert team also undertaker installations, so if you need to have your new fencing installed, we would be pleased to assist. Additionally, we also offer a repair service. If your fence panels or fencing posts need attention, let us know and we can repair them, professionally and efficiently. Our years of experience, attention to detail and professionalism ensure that the fencing project we undertake is second to none.
Fencing posts in Mossley Hill are available when you contact A Line Fencing. We have provided our expert services since 1998 and continue to do so. The prices of all our products are competitive and we are happy to offer a free quote for your new fencing posts. Furthermore, our expert team is available to assist you with suggestions and advice regarding your new fencing posts. We know just how important the safety and security of your property is, and we provide fencing posts and fencing options to ensure the fencing on the perimeter of your property is strong. No job is too small or too large for our expert team. Let us know how we can assist.