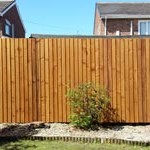 Our quality garden fencing in Belle Vale will change the look of your property. We specialise in wooden fencing for both commercial and domestic properties. With our garden fencing, you will have privacy, along with a great look for your property.  We're happy to provide advice on the best garden fencing for your specific requirements. Garden fencing is an excellent way to ensure that intruders stay out of your property. It is also a great way to keep your children and pets safe within your property.  Along with the safety benefits of garden fencing, it'll add visual appeal and value to your property.  Additionally, we offer a range of sturdy, attractive timber gates. This will complement your garden fencing beautifully.
Choose from the best timber fencing for your property.  In Belle Vale, garden fencing is an environmentally friendly way to protect your home from intruders as well as nosy neighbours. Speak to our team about the best type of garden fencing for your property. While we specialise in timber fencing, we can also offer different types of garden fencing. Perhaps you are looking for post and rail fencing, or mesh fencing for your ne garden fencing. We can supply both types of fencing along with our wooden garden fencing. On top of that, we are happy to install your ne garden fencing, saving you time and effort. Additionally, we can offer palisade as well as security fencing. Some say that the most attractive garden fencing has to be timber garden fencing – it is timeless and elegant, while providing a sturdy fence that is made to last.
Garden fencing in Belle Vale will increase the value of your property. When a garden fence is in good repair, it adds aesthetic appeal to your property. If your garden fencing becomes damaged in any way, we also offer a repair service. We will replace the panels that are damaged with new. For more details about our garden fencing, or if you need advice, contact A-Line Fencing today. Concrete fencing is also a viable option for your garden fencing. Strong and tough, it is designed to protect your property for years. Choose from our quality range of garden fencing for your property.