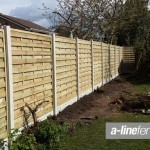 Protect your premises and valuable contents with our top-quality industrial fencing in Warbreck. Our firm, A Line Fencing, specialises in a wide range of options to suit commercial, residential and industrial requirements. Fencing can be viewed merely as functional and practical solution to your safety and security issues. However, it can also add aesthetic value to your property and demarcate the boundaries clearly. Using high quality materials ensures that the fence remains sturdy and long-lasting with minimum maintenance. It is also important to ensure that the installation is done by professionally trained, experienced fencing specialists. You can enhance the security by adding more features and access control products.
For businesses in Warbreck, industrial fencing is a long-term investment that offers the right kind of security. It must be low-maintenance, cost-effective and durable. Fences can be used to separate restricted areas or those parts of your property where more privacy or additional safety are required. There are several materials that can be used and you can pick the one that best aligns with your unique requirements. Fence installation boosts property values by a significant percentage. Businesses, factories, small and large scale industries, and retail operations must be protected from intruders. Our team can help you to select the style and design of the fence.
Industrial fencing in Warbreck can be of the high chain-link type, mesh panel, palisade, heavy duty steel or aluminium panels, galvanized, vinyl or powder coated metal fences, or montage steel with ornamental spikes. It is important to check the building code regulations in your area before you plan the installation. If your property lies within an industrial zone, they may have their own restrictions. Select materials that are suited to the local climate. Finally, the most important thing is to select the right fencing company for the job. We have many decades' experience in this sector. Contact A Line Fencing for more about our available options. Our team has worked closely together for several years, and have earned the reputation for excellent workmanship, pricing and customer service. Our services are available 365 days in the year and our friendly, experienced technicians are at your service whenever you need them.