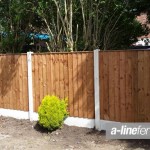 Choose wooden fencing in Burscough and add a statement to your property. You may need to replace your current fencing. Or perhaps you're installing a fence for the first time. No matter the reason, Wooden fencing is An excellent choice of fencing.  This type of fencing is attractive and it is also durable. When you choose wooden fencing for your property, you can be sure of a long-lasting fence that remains good looking for years. Wooden fencing also provides security and privacy. Choosing your new fencing should be done with care. Make sure to use the services of a professional company that provides top quality products at competitive prices. Our expert team is available to assist.
Pay us a visit to view our range of top quality fencing options. Thus, in Burscough, wooden fencing panels are manufactured from responsibly sourced timber. Our wooden fencing is also treated to ensure it is robust, and will last for years. If you have any questions regarding the most suitable fencing for your property, our experts are happy to help. As such, we can provide fencing advice on the most appropriate size and type of fencing for your property.  If you do not have the time or the experience to install your new wooden fencing, we provide an expert installation service too. Moreover, our prices are excellent. Speak to us about a quote and you can see how competitive our prices are.
Choose wooden fencing in Burscough for style and security for your property. Timber is used because of its strength. Its strength and beauty result in a beautiful, timeless garden fence. Contact A Line Fencing today for more details on how we can assist you with top-quality wooden fencing.  We have many years of experience in the fencing trade. As such, if you need advice or suggestions regarding the best type of wooden fencing for your garden, we will be happy to assist. We also offer a range of top quality timber garden gates to further complement your property.