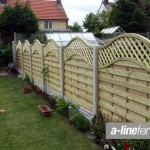 The right garden fencing in Liverpool can enhance the look of your garden, give your property great curb-value and also provide safety and privacy.
Fences are perhaps not top priority when we plan our gardens, but they're an essential aspect of defining boundaries and can convey your style and design statements very effectively. In practical terms, garden fences keep out unwanted visitors, pests and intruders. Reputed and reliable companies like A Line Fencing offer top-quality design advice, installation and maintenance services to cover all your fencing needs. While choosing your garden fencing, keep a few important tips in mind.
Take the time to identify and understand your needs and what purposes the fence will serve. In Liverpool, garden fencing can be used to mark boundaries, protect the garden and produce, provide privacy and safety or it could be a purely decorative element. Keep your budget and maintenance capability in mind while planning the fencing, as there are many different types of materials, designs and structures available. The fence should be in sync with the rest of the property or building. Use of technology like surveillance and alarm systems is another crucial aspect to consider. Many places have municipal or governmental regulations that mandate certain dimensions like height. Local companies like A Line would be familiar with all these aspects.
Choosing the right materials for garden fencing in Liverpool is another important aspect. Contact A Line Fencing today for more information about their available garden fencing options. Wood, metal, PVC, composite materials, and concrete are commonly used. Picket fences are the most common choice for garden fencing, as they're easy to install, cost-effective, look attractive and neat and provide safe boundaries for children and pets. If privacy is your main concern, closeboard fencing is best. They're expensive and need professional installation but long-lasting and ideal for rear-gardens. Lap-panel fencing is affordable and provides safety and privacy, but it's not very durable. Composite materials are gaining popularity, as they're low-maintenance, though initial costs are high. Trellis fencing provides interest and beauty to distinct spaces. The design you choose is based on both aesthetic and functional requirements. They are available 365 days in the year, so speak to them to discuss all your fencing requirements.