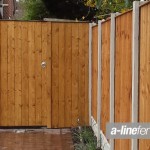 If you're wondering whether it is worthwhile to install garden gates in Aughton, then consider the benefits. First and foremost is added security. With the crime rate going up, no one is a hundred percent safe, even in their own home. Imagine your kids are playing in the back garden and you're inside – wouldn't you feel better knowing that a big gate will prevent them from wandering outside. A garden gate will also prevent intruders from entering. Secondly, garden gates provide privacy. Your garden is an extension of your home. It helps not having your neighbours peaking or having passers-by leering in. Lastly, garden gates can increase the aesthetics of your property. You have to make a careful decision about the design and quality of wood. Usually though, garden gates enhance the beauty of your home.
If you reside in Aughton, garden gates can be found at A Line Fencing. We are the leading experts when it comes to creating, styling and installing hand crafted timber gates. We can custom build timber gates to fit any size backyard, driveway, opening or garden. Customers also have the option of choosing ready-made gates from our brochure. In addition, we provide treatment to all our timber so that your gate and fence panels will last for a long time. There are many options on how you can get your garden gates installed. You can install timber posts, fit to existing fencing, add concrete posts or attach wall fixings and have the gate swing from the wall. We can fit and style timber gates of all shapes and sizes.
If you're interested in installing quality garden gates in Aughton, then contact A Line Fencing today. Our services, prices, craftsmanship and quality are second to none. Have a look at our brochure for inspirational ideas for stunning garden gates. Our timber gates are hand-crafted and styled for your particular requirements.