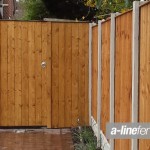 If you are planning to install timber gates in Belle Vale make sure you get them designed, manufactured and installed by the specialists: A-Line Fencing. We provide hand-crafted, bespoke products made to your specifications, requirements, budget and design, from top-quality seasoned, treated and slow-grown timber. Our gates are suitable for entrances and openings, gardens, back-yards, drive-ways and you can be assured that they're both functional and lovely to look at. Other types of gates provided by our company includes boarded and field gates, courtyard gates that give your property elegance and character, besides demarcating and protecting certain spaces. Slatted gates are another very attractive option for gardens and entrances.
Timber gate manufacturers ensure that they use the most appropriate types of wood. For instance, in Belle Vale, timber gates may be made of tough, hard-wearing cedar wood which is one of the most common materials used for outdoor fencing and gates. This is because cedar wood is highly resistant to decomposition and there are several options available which give your gate that touch of uniqueness. Wood is also much more cost-effective as compared to wrought iron. However, there are some limitations to using wood, because wooden gates have a restriction in terms of how much length they can span without having joints and hinges. You may need metal brackets and cross bracing if you need a long span.
Another issue with timber gates in Belle Vale is that with a larger span, the weight of the timber may cause the structure to sag. Wooden gates also tend to bounce and twist as they swing open, especially if they're of a larger size. Our skilled fitters will ensure your timber gates are professionally installed. Contact A Line Fencing for more information, design advice and installation of high-quality timber gates. Wooden gates are extremely attractive and you can also paint them in eye-catching colours to give your property curb value.