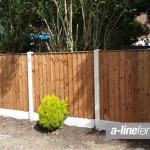 Find garden fencing in Maghull for the finishing touch to your new garden. A new sturdy garden fence is an excellent way to combine both the practical and the stylish, by adding security to your garden and creating a good looking stylish finishing touch to your yard. Putting up the right fence is not only important for keeping your garden safe from unwanted visitors such as the neighbourhood dogs, but also to ensure its security. A garden fence will also ensure that you have a clearly defined boundary. This will make sure that unwanted visitors are kept away. It also has the added benefit of creating an aesthetically pleasing appearance.
For the overall look of your property in Maghull, find garden fencing that matches its unique style. Choose a garden fence that is not only sturdy enough to provide the required security, but is also pleasing to the eye. A-Line Fencing provide quality fencing options at competitive prices. While wooden fencing is their speciality, they also provide other types of garden fencing to meet your specific requirements. You can choose from a large selection of different wooden styles of fencing. If you are concerned about security, you could choose from palisade fencing or concrete fencing. Their wooden garden fencing is of the highest quality, and expertly installed by their professional staff.
Find garden fencing in Maghull to add the 'wow' factor to your property. Contact A-Line Fencing today for more information about choice quality garden fencing. They are open Monday to Sunday, 9 am to 7 pm, so you can pay them a visit at any time to view the garden fencing they have on offer. They also offer a repair service, should it be necessary. Speak to them to arrange a visit and free quotation. Their expert team can give you valuable advice on the most suitable type of garden fence for your property.