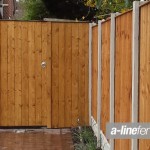 Quality timber gates in Childwall will transform the appearance of your home. Whether you have a small picket fence or complete steel palisade perimeter protection, a timber gate can add a lot of visual appeal. Our timber gates are handcrafted and you can have a completely unique, personalised gate made according to your own style or designs. We can assist with the creation of your unique design to provide expert insight into which features would best serve your needs, for example. If you are stuck for inspiration, we also have a range of ready-made designs to choose from.
If you want stunning gates for your property in Childwall, quality timber gates are our speciality. The timber we use offers unparalleled aesthetics as well as durability and security. Our products are all treated for weather protection. They are guaranteed to last years without rotting, warping or suffering from mites or pest infestations. Our design service allows you to find the perfect gate that matches your fencing and building. However, you may be tempted to install our wooden fencing as well after seeing the quality of our fencing products! Our timber gates can be easily fitted to fencing, timber posts, concrete posts or we'll attach wall fixings and have your garden gates swinging from the wall. Whether you are looking for a gate that delivers secure protection of your property or more decorative options, we have the solution.
Quality timber gates in Childwall don't only have to be featured in your driveway or house front. If you have a large garden that you want to section into separate areas, a small wooden garden fence and gate will be perfect. This way, you can have attractive enclosures for veggie gardens, swimming pools or other garden features that you want to keep separated. Contact A Line Fencing for top quality timber gates and fencing. We supply, manufacture and install our timber gates at affordable rates for your convenience and satisfaction. If you want stunning, durable gates and fences, look no further than A Line Fencing.