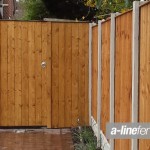 Need high-quality fencing in Croxteth? Those who are looking to secure their properties can do so cheaply and easily. Whether you have a small poultry farm or you have a neighbour with pets that are constantly messing up your garden, consider checking our range of fences. At A-Line Fencing, we have everything ranging from simple garden fencing to sturdier concrete fencing. If you have been thinking about securing your perimeter, don't hesitate to pay us a visit and we will be pleased to provide you with all the necessary information. Having been in the field for years, we will be able to provide you and recommend quality products at affordable prices.
For clients who want to protect their privacy from nosey neighbours or feel more comfortable away from prying eyes in Croxteth, fencing such as wooden panels or concrete fencing is available. If you simply want to protect your pets or animals and enclose them in an area from where they won't escape, mesh fencing is more ideal. However, if you have a business and need more robust fencing, then we strongly recommend palisades, security fencing with post and rail fencing. We have a number of different solutions to any perimeter issues that you will come to us with. Even if you need a temporary type of fencing, contact us today so that our contractors can visit the site and provide you with more useful recommendation and a detailed estimate. We stock a huge number of products and can build whatever you need to protect your warehouse or home. We also have gates and other accessories which you might be interested in.
Clients who are searching for a reliable company to purchase their fencing in Croxteth should pay us a visit. Contact A-Line Fencing for more information about our available fencing options.  We supply both the domestic and commercial sector and if you are interested, give us a call. You will not be disappointed with the workmanship and the products that we will supply and install for you. We take great pride in the work that we do.