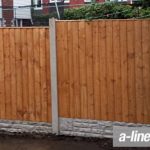 For the largest selection of fencing in Halewood visit A Line Fencing. If you are a homeowner looking for privacy in your garden, we have fencing that blends beautifully with natural surroundings. Choose more or less privacy depending on the height of fence you prefer. The sturdy timber makes an ideal backdrop for avid gardeners. Line it with ornamental trees and large green perennial plants and flowers. You can create paradise within the fence and forget you are surrounded by homes and street traffic. Top it off with one or two of our garden gates for easy access and secure it with attractive hardware. We have a large selection of hardware from which to choose. If you want to childproof the gate without inconveniencing adults, we have the solution.
We serve the fencing needs of commercial and industrial complexes. In Halewood, fencing that is secure and attractive such as Palisade fencing is our speciality. It is solid secure fencing for schools, industrial complexes, commercial buildings and more. We install mesh fencing and post and rail as you prefer. Maybe you have dreamed of concrete ornamental fencing for your home. Tell us what you have in mind and we can do it. Concrete fencing lends a solid stateliness to large properties and especially municipal buildings. A low concrete wall fence makes a nice frame for homes and office buildings. You can do so much to enhance the look of permanence with green plantings and creeping ivy around your low concrete wall.
You can plan your fence from the finest materials but without professional installation your fencing in Halewood may disappoint. A Line Fencing is a full service company prepared to meet all your fencing needs. Our installers are experienced professionals who can level a fence across any terrain. If you're not ready for a new fence, we will gladly refurbish and repair your existing one. We can do temporary fencing for contractors as needed. Contact A Line Fencing with any fencing needs. You can count on our expertise and fair pricing. We build fences to look good and last for many years. A Line Fencing is at your service throughout the North West and across Merseyside.