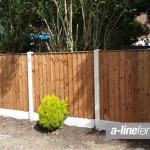 There are numerous reasons to install fencing in Huyton and the most popular is to demarcate your property so that others don't inadvertently trespass on your piece of land. In many cases, setting up fencing will not only mark your property but it will also provide you with added privacy. Whether you are a homeowner or a realtor, it's good to know that no one is watching you when you are watching a movie with your significant other or when you are having dinner. Different types of fences will accord the different levels of security. The sturdier the fences, the more reassuring it is for the inhabitants.
If you wish to demarcate your property in Huyton, fencing options including both concrete and wooden are available at A Line Fencing. We have been in the field for a number of years and can propose various solutions to your needs. We can provide different options including garden fencing, palisade fencing, and concrete fencing. Talk to our staff members and they will provide you with more options if required, and if you are not too sure about the type of fencing you want, let our personnel guide and recommend the most suitable fencing according to your budget, tastes and homes style. Your choice of fencing will normally depend on the reasons you are installing them. As such, if you live near a wildlife reserve, you might want to set up normal mesh fencing to prevent them from messing up your yard. They don't offer any sort of privacy but they will definitely prevent stray dogs and other animals from destroying your property. If you have children or pets, a fence will protect them inside, preventing them from wandering on the road or into the pool.
We will be pleased to provide you with suitable fencing in Huyton. For more details about our available fencing, contact A Line Fencing. If you want your fence to be decorative and add to the appeal of your house or neighbourhood, don't hesitate to let our company know; our fences are an investment you won't ever regret!