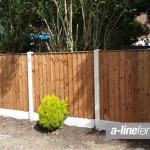 Look for cheap garden fencing in Aintree for your property. There are numerous reasons why you want to enclose your property. It could be for security reasons, demarcating your property line, or to add value to your property. Whatever your reason, find cheap quality garden fencing for the job. A-Line Fencing are fencing and paving specialists, with many years in the fencing industry. While timber fencing is our specialty, we supply a wide range of fencing options for our clients' needs.
To increase the value of your property in Aintree, cheap garden fencing is designed to provide a classy look. Choose from our selection of different types of fencing. Timber fencing is a classic choice. Not only does it look good, but provides excellent security to your property. Our team is experienced and can provide advice on the best types of timber fencing for your particular needs. We can inform you on the different types of timber used, and which would be most suitable. We can also advise on the different styles that would meet the functionality requirements of your garden. If you are interested in timber fencing, we supply and install top quality timber fencing that will change the look of your property.  If you prefer, we also have different fencing options to choose from. We supply and install concrete fencing. These are available in different styles and are suitable for any property. Should security be the primary reason you want to install a fence around your property, we also offer strong industrial fencing.
Cheap garden fencing in Aintree can add both character and value to your property. Timber fencing adds more of a decorative element to your garden that other fencing does. It is also an environmentally friendly option, perfect for those who wish to manage their carbon footprint. If you would like to find out more about cheap garden fencing, be sure to contact A-Line Fencing today. We also offer a repair service where we can replace damaged panels of your timber fencing, efficiently and professionally. Add to the look of your property, and add security and value with cheap garden fencing from A-Line Fencing.