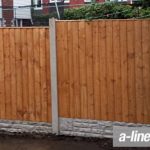 Wooden fencing in Widnes is becoming popular in the UK. Many home owners are choosing wood in place of metal and concrete fencing. The reason behind this is the many advantages wooden fencing have over all other fencing options. At A Line Fencing, we build top quality wooden fencing guaranteed to meet all our clients' expectations. Although fences are often used for keeping things out of premises, they also serve the purpose of keeping things contained within an area. Agricultural fences keep cows, goats and sheep within a particular feeding zone. Fences can be found in both residential and commercial premises. More than just delineating a property, fences improve security and add aesthetic value.
Fencing structures come in different sizes and shapes depending on the premises being fenced. In Widnes, wooden fencing is popular in residential areas. We offer a wide range of options of well manufactured and installed wooden fencing. Although a fence is sturdy, its main function is to give a sense of privacy. On private property in residential areas, a fence demarcates the premises of an individual. When it comes to aesthetics, wooden fences offer a wide creative space. Your wooden fence may have slits or fail to have them. Slits offer minimal privacy, but sometimes that is the intention. If you have a beautiful flower garden in your front garden, why hide it behind a completely sealed fence? On the other hand, a plain garden does not require exposure.
Wooden fencing in Widnes comes in all shapes and sizes. The top cut of a wooden fence can give it an attractive look. It ranges from a simple convex to a gothic point. All these designs are available at A Line Fencing. We are among the leading fence suppliers in the UK. With over two decades of experience, we deliver splendid work that is sure to meet your expectations. Our builds are sturdy and they are guaranteed to last for years. Contact A Line Fencing today for more information about our top quality fencing. We do everything from wooden perimeter fences to garden fences.