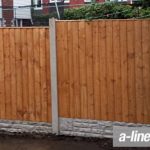 If you need fencing panels in Maghull for a new garden fence, visit A Line Fencing. When your existing garden fencing is looking a little worse for wear, or if you feel it is time to smarten your property, a new garden fence will make all the difference. We are known as the experts in garden fencing, and can offer you are range of carefully crafted fencing panels.
For your garden in Maghull, fencing panels expertly made from timber are available from A Line Fencing. Regarded as the fencing specialists, we offer quality, competitively priced to suit your specific requirements. While timber fencing is our speciality, we offer a wide range of fencing options to all our customers, both commercial and domestic. Speak to us about any queries you have about fencing panels. Our professional team can advise you on the different available styles, the types of timber and the different functionality requirements for the fencing for your garden. We are pleased to offer new timber fencing panels for your new fencing for your property. We will supply the fencing, as well as install it, all expertly and efficiently.
Fencing panels in Maghull are affordable when you use the right fencing company. Contact A Line Fencing today for your new garden fencing panels. We also offer a repair service, so if you would prefer to keep your existing garden fencing, we can replace the damaged fencing panels and replace them with new. A good garden fence not only increases the security of your garden, it looks good and adds value to the property. When it is time to give your property a facelift, remember A Line Fencing. We also offer a range of other fencing options such as palisade fencing, mesh fencing, concrete fencing as well as industrial fencing. Additionally, we offer a range of beautifully crafted wooden garden gates. If you are replacing your old garden fencing for a new good looking fence, perhaps consider adding a new timber gate as well. Our gates can be manufactured to fit any sized opening, ideal if you need a gate for a smaller, or larger than normal entrance.