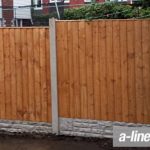 There are many ways to place a border around your properties boundary but by far the most popular are fencing panels in Rainford. There is a wide variety of designs and the sturdy timber panels are quick and easy to install. Careful consideration needs to be made when choosing a garden fence as it plays a large part in the look of your garden.  Panels add privacy to your garden as well as deterring unwanted intruders. The panels come in a number of different heights to provide the style of border you require. Having a lovely fence definitely increases the value of your home.
To protect your property and enhance the character of your home in Rainford, fencing panels are one of the most cost effective products to use. We are considered to be specialists when it comes to supplying and fitting garden fencing. Timber fencing panels are usually coated with chemicals that protect the wood from attack by insects and rot. This makes the timber panels long lasting and if an accident occurs the panels can be quickly replaced. We also off mesh fencing, and industrial security fencing. Our palisade fencing is used around parks and schools. Concrete fencing is perhaps one of the strongest fences we supply and it comes in panels with concrete uprights in many different sizes.
Our fencing panels in Rainford are durable and strong and will protect your garden. Contact A Line Fencing today and we will visit your property and discuss the various options available. Besides fencing of all types we also off a full service of paving, decking and turfing. Our fence panels can be fitted with timer gates which are hand crafted and designed to fit any sized aperture.  The gates are built to your specifications for driveways, backyards and gardens. We also offer treatments to protect your timber fences and gates. Our expert installers will fit the gate so that it hangs at just the right angle and is easy and light to push open. Established since 1998, we continue to provide a first class service and products to our customers.