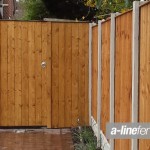 There are so many reasons to choose timber gates in Garston, but the most popular is often the charm that wooden gates and fences add to the yard. Timber gates are perfect if you are looking to hide away unsightly areas of your yard or to increase your privacy, especially if there are prying eyes in the surroundings. If you have small children or pets, you will find that wooden fences and gates can help to keep them in and give you peace of mind, especially if your house is located on a busy road.
If you are looking for an amazing way to enclose your yard, get in touch with us at A-Line Fencing. In Garston,  timber gates that we manufacture are strong and durable. We understand how important it is to protect your land and keep out intruders, and if you decide to get in touch, you will be pleased to know that we won't just manufacture your fences and gates as per your desires, but we will fit them as well. We carry out all aspects of the project, from the beginning until completion. We specialise in various types of fencing and gates, including but not limited to palisade, mesh installations, garden fencing and so on. If you are not sure or would like a professional opinion before purchasing the items, please don't hesitate to talk to our trusted and experienced staff members. We supply both to the domestic and commercial sectors, so rest assured, no job is too small nor too big for us. And we offer a comprehensive fencing service that will not let you down.
Our timber gates in Garston are hand-crafted and can be styled for any specific requirements. When you employ A-Line Fencing, you can be assured of a wonderful finish. For more details about our timber gates, contact A-Line Fencing today. We have a large selection of timber gates that can be accompanied by different fixings to match your property. Should you require it, we are also qualified to repair existing gates or fencing panels.