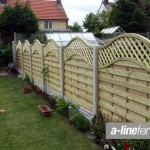 Looking for fencing companies in Knowsley throws up a lot of different results and many aren't even relevant to fencing or the area. At A Line Fencing, we are proud to serve Knowsley with our top quality fencing services for your garden or business. Our experienced team has been fitting fences for local residents for years, so there is little we don't know about the fencing industry. We offer a reliable and efficient service that is better than the local competition. Our fences are installed to the highest standard and are made from the best materials so you can have peace of mind your fence will look amazing and will last for many years to come.
It has been noted that, in Knowsley, fencing companies generally aren't specialists but A Line Fencing is. It's in our name and we have vast knowledge of every kind of fence imaginable. Our speciality is panel garden fencing that comes in a variety of timber types with a number of different sealant finishes. If you need a brand new garden fence, we have you covered but if you just need some repairs or replacements, we can help there too. We also offer a range of concrete fencing that is perfect for businesses but allows for more security for your home too. If you are looking for a high security fence, we provide top quality, highly secure fencing options so you can sleep easy at night knowing you or your business is safe.
Of all the fencing companies in Knowsley, we at A Line Fencing believe that we can offer you the widest range of different fencing types at a very competitive rate. If you would like free advice on which kind of fencing you might need, contact us today.  Whether it is timber, concrete, palisade or high security, we will have a fencing solution to satisfy your needs. We can help you make your home or business safe while looking great at the same time.