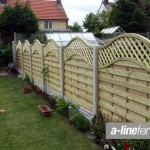 You will need quality and long-lasting garden fencing in Huyton to protect your property. Whether it's to keep your small animals inside or to keep out trespassers, boundaries have become important elements in demarcating your property line. Boundary fencing will also increase the value of your property as it will add to the overall security as well. There are a large variety of fencing options available on the market, and if you are looking for the most suitable for your property, contact the experts at A Line Fencing. Our team will be pleased to walk you the different types of boundary fencing, and based on your needs and requirements, will manufacture them to your specifications.
We have timber panels which we believe are among the most cost-effective products. However, we also have mesh fencing for simple boundaries, security fencing, as well as concrete for the varying needs of our customers. In Huyton, garden fencing that has been vandalised or is in need of attention can be repaired by our expert team. Whether they are wooden fencing or mesh installations, the repair work we will carry out is of a high standard, and we will make your fencing look as good as new and as strong as it was. Of course, before you carry out any work with boundary fencing, it's important to let your neighbours know you will be undertaking work, and make sure that the fencing is up to the set rules and regulations in your locality. We also have matching gates and posts, and many other accessories as well. If you are interested, we can carry a complete landscaping project, transforming your property into a beautiful little haven, away from prying eyes.
Our wooden garden fencing in Huyton is manufactured by our team in-house, and we guarantee professional workmanship. If you have any questions about our products or services, contact us today. We are open every day, including Sundays, and we are confident that we won't be beaten on service or on price. With A Line Fencing, you are guaranteed the best products coupled with amazing results!