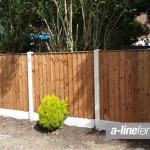 Picket fencing in Childwall may remind you of an old cricket field, a barrier under siege or a charming garden. We recommend picket fencing as a boundary fence. It adds a lot of charm to your garden as well as larger properties and it doesn't block the view. The height of picket fences is usually between 91 and 122 cm so it's tall enough to protect kids and dogs from straying and discourage trespassing even by friendlies; human or animal. We can build them to whatever height you choose. The pickets are traditionally sharply pointed as in medieval stockade fencing but the boards or pickets are flat and spaced a bit apart. However, parents of young children who climb may choose to have the point of the picket flatly planed. It's also a good idea for dogs that jump and cats that are not sure-footed.
There are options for safety besides just flattening the picket top. In Childwall, picket fencing can have decoratively shaped tops such as a gothic look. There are also options in colour. You can leave the pickets to weather to a soft grey shade or you can use a wood stain. Of course, painting is also an option but it requires a little more maintenance over the years. However, if you paint then your choice of colours is endless. We're well known for our timber gates. Your gates for your picket fence will match the fence so the fence appears seamless. A formal looking picket fence usually has substantial square fence posts. There are options for the shape of fence post caps that add interest. Some even choose brass caps or solar lights that fit the cap.
Picket fencing in Childwall constructed and installed by us will be durable enough to withstand the elements for years. We dig the postholes deep and fill with concrete to hold the framework supports for your picket fence panels. We use fine quality timber that is substantial for the pickets and support boards. When we plan the installation, we take the measure of the land and install the fence accordingly so it's level to begin with and stays that way through the years. Contact A Line Fencing when you're ready for new garden fencing. If you already have a picket fence that is starting to show its age, we can make it like new again.