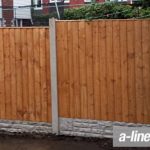 Wooden fencing in Knowsley can give your property a new look. Not only will a wooden fence increase the aesthetic value of your property, it will also increase the security. By enclosing your area, you get the opportunity to keep the unwanted out and the necessary in. You can also use wooden fencing to demarcate the boundary between your property and your neighbour's. This is an added advantage for when you both do not want to spoil the aesthetics of the area by using other fencing material. Moreover, having a boundary helps you protect your loved ones, especially your children when they're playing outside. This also works with your animals. The neighbourhood's dogs will be kept out of your yard, and your own will be safe inside the property.
By adding a gate at a specific point on the fence, you can access the house or garden with ease, giving you various options. In Knowsley, wooden fencing can also be used to protect your garden, as the wood panels can be sized to your preference. No matter how high or low you want the panels to go, A Line Fencing can assist. We provide a comprehensive fencing option that will both meet and exceed your expectations. You can have the wooden posts customised by incorporating various designs so you can stand out from the crowd. You may opt to have slits in between posts or have them completely stacked next to each other. Whatever your preference, our team will be on hand ready to have your fence up in no time.
Wooden fencing in Knowsley enhances the natural feel, especially if you're in a green area. You add value to your home by using this type of fence, as it has become and continues to be quite a popular choice. If you are looking for wooden fencing for your property, contact us at your earliest convenience. Since 1998, we have been running a successful business and offering customer service like no other. We are available every day of the week throughout the year. We are happy to provide a service for both domestic and commercial areas.