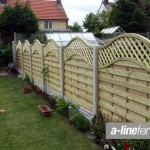 Surrounding your property with garden fencing in Whiston is the sensible way to delineate your property. There is an old saying that 'good fences make good neighbours' and this is very true. Your property is your concern and once you have it fenced there can be no argument over who is responsible for various trees or bushes on the boundary. Both you and your neighbour know where you stand. You may require a high fence in some parts of the garden and lower fences in others. With a timber panel fence, you can ensure privacy if the fence is high enough. This can allow you to entertain outside on a patio without the neighbours watching you.
When you need to protect your home in Whiston, garden fencing can be attractive and secure your property. Everyone is becoming more security conscious today and we have many different types of fencing for this purpose. Our palisade fencing can be used to great effect around a garden.  It allows your beautiful garden to be seen but excludes any unwanted visitors. It will also keep a dog inside the property. Concrete fencing will screen your property and is strong and durable.  It can be painted to help it blend into the garden.  We also supply gates to allow entrance into your property. These can be across the driveway or between the front and back garden.  Most of our gates are manufactured from timber and can be made to fit any aperture.
We supply some of the best garden fencing in Whiston. We stock a wide range of fencing products as people have very different requirements. Contact A Line Fencing today and order your new fence. We have been supplying and fitting fences, paving and decking for almost 20 years. We also supply and fit gates and wrought ironwork as well as turf. We take care of all your outdoor decorative and security needs. Our team have worked together for many years and are very experienced in their fields. We started the business as a garden fencing company and have expanded into various complementary services.