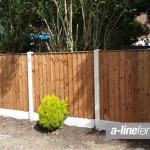 Have you thought about wooden fencing in Huyton for your property's boundary fence? There are a great number of advantages to choosing wooden fencing over any other type of fencing. Wooden products are timeless. A wooden fence will never go out of style. Carefully manufactured and professionally installed, a wooden fence will provide years of security. A wooden fence is easy to maintain, and with a little care and attention will last for many years.
To add to the look of your property in Huyton, wooden fencing is an excellent choice. Wood is also an environmentally responsible choice as the wood used for the fence is sourced from ethically managed woodlands. Wooden fencing is easy to install and maintain. It is also one of the most affordable types of fencing available, compared to steel, iron and aluminium fences. A great advantage of wooden fencing is that it blends well with nearly every setting, and it easy to customise. Fencing made from wood is available in different styles and sizes. If you are interested in wooden fencing for your property, why not contact us today? We are happy to answer any of your questions, and can assist you with suggestions and advice on the most suitable style and timber for your fencing.
Wooden fencing in Huyton is available at a competitive price when you contact A Line Fencing.  We invite you to pay us a visit and see the available styles of wooden fencing that have on offer. You can also have a look at our wooden gates, a perfect match for any of the wooden fencing you choose. If it a garden gate, or perhaps driveway gates, our timber gates are handcrafted and styled for every purpose. We also offer treatments to protect your timber. We are open every day of the week for your convenience. Our expert team is also available for repair work. If you have a wooden fence that is old and in need of repair, we are happy to replace the damaged panels.