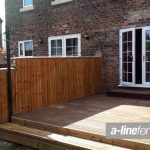 Have you considered choosing picket fencing in Gateacre for your property? A white picket fence conjures images of a pretty garden with vines and flowers spilling from well-placed containers. Not only is picket fencing an attractive fencing option, it also has a number of benefits. It is easy to install, is robust and while it is inexpensive, it will add value to your property. This is particularly helpful if you are planning on putting your property on the market in the future.
To increase the aesthetic value of your property in Gateacre, picket fencing is an ideal fencing solution. While it can afford a lovely view of your well-manicured lawn and garden, it also plays a role as a security option. A higher height of a picket fence will provide security to your property. As the panels are placed relatively close together without any obvious footholds, this makes it difficult to easily climb over, thus discouraging any potential intruder from gaining access to your property. Higher fences remain stylish, yet provide additional functionality. Regardless of the height you choose, a picket fence still imparts a welcome to our house message, leaving it both stylish and functional. One of the biggest attractions of a picket fence is its ease of installation. When standard size pickets and spacing's are used with ready-made fittings, this is undoubtedly one of the easiest types of fences to install.
We are pleased to offer affordable, quality manufactured picket fencing in Gateacre. To find out more about our picket fencing, or to receive an affordable quote, contact A Line Fencing today. All our fencing products are manufactured using only top quality timber. Each fencing product is treated with tanalith a to ensure its longevity. We also offer an installation service to ensure the perfect fence for your property. As we specialise in all types of garden fencing, you can rest assured that you will receive fencing that is carefully manufactured, and expertly installed. Our professional fence fitters are available to assist you should you have any questions regarding your picket fencing. We also offer custom-made timber garden gates to enhance the look of your new picket fencing.