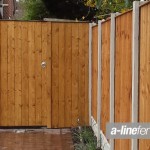 Heavy duty fencing panels in Aigburth from A Line Fencing is a once and done project busy people appreciate. If you are installing a fence, it's for a reason. Your reason may be privacy, security, aesthetics, safety or all of the above. Once you have decided a fence is your best solution, you want it done right the first time because you need to move on with the business of your life and work. Our timber fencing panels are just what you're looking for. They meet the standard for all your reasons for wanting and needing a fence. Our wood fencing panels are built from timber sourced from sustainable forests. You have a selection of woods, designs and finishes as well as heights to achieve your desired outcome.
Our fencing panels are made from sturdy timber products. However, in Aigburth, heavy duty fencing panels depend on the quality of the construction as well as the materials. Even then, the dependability of your fence requires the conscientious installation by professionals such as our team of installers. Three essential components are needed for a strong and durable fence; quality timber products, skilled construction and professional installation. That is exactly what you get from us. Your fence will be attractive and long lasting, just as you need. For the next few decades, minor maintenance is all that is likely to be required while your fence does the job it was built for.
Even heavy duty fencing panels in Aigburth can fall victim to unusual conditions. If a utility truck backs into it, damage to the fence may result. Severe storms could bring down large tree limbs that could damage your fence. So while your heavy duty fence is not invincible, we can repair it like new. In most such instances, your property insurance will cover the cost. Because of the quality, you should never have to replace this fence. As it starts to show its age, we can make the repairs to keep it standing strong. Contact A Line Fencing for a free, no obligation price quote for the purchase and installation of heavy duty fencing panels. We'll get the job done to last.