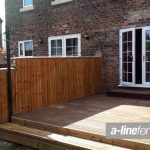 Heavy duty fence panels in Litherland are both supplied and fitted by A Line Fencing. We are experts in fencing of all kinds; domestic, commercial, industrial and security. You may be planning for a new garden fence and you know you want timber; just not which timber. We can identify each of our timber products for you and explain the benefits of each. Our timber panels are sturdy and heavy. You may have seen very attractive garden fencing but when you handle it, the strength and substance is not there. Timber fencing is beautiful and our fence panels are also strong enough to withstand many years of exposure even in harsh climates. We think you'll be impressed with our strong timber gates to secure and complete your fencing project.
We build strong panels but we also put a strong framework in place to prevent the panels from sagging and premature loosening. For our fencing customers in Litherland, heavy duty fence panels, strong framework, deep posts and beautiful gates are the components of the durable fences we sell and install. Whether you choose a tall privacy fence or just want to define property lines, timber fences are aesthetically pleasing. Our panels create a lovely natural background for your landscaping plants while discouraging trespassers. Security is an important factor in garden fencing. Our panels will provide that to whatever degree you want. It depends on whether your focus is on keeping pets and people safe inside or preventing outsiders from breaching your borders.
We can replace your old fence with our heavy duty fence panels in Litherland.  Some fencing becomes an eyesore over time and makes your property appear poorly maintained. It has no aesthetic value and may not even be keeping anything or anybody in or out. We can make sure the framework and posts are in excellent condition, add new panels that will provide the safety and security you want. When we are finished, your whole property will look wonderfully well maintained. It will definitely add to your property values. Contact A Line Fencing for a free quote on new timber fence panels installed. You will be impressed with how heavy duty they look and feel especially since our prices are so reasonable.