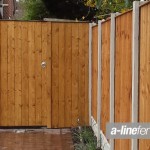 If you are wondering why wooden fencing in Litherland has become a popular option among homeowners, pay us a visit. When you do, you will be able to see the large range of stunning wooden fencing options that we have on offer. Wood is timeless, and not only is it a sturdy and durable option for a garden fence, it looks good too. With a wooden boundary or garden fence, you can rest assured that your property is safe and secure. It will add a pleasing element to the style and overall look of your property. We are pleased to offer a range of different wooden fencing styles that will meet your specific needs.
A property that is neatly surrounded by a well-made fence is an asset. In Litherland, wooden fencing is a popular choice among many for many reasons. It is an affordable option, and is one of the best choices in terms of cost-effectiveness. A wooden fence is also durable and when correctly cared for, can last for many years. Another benefit of wooden fencing, especially for those who take care to do their bit for the environment, is that wooden fencing is an environmentally friendly option. We understand that both privacy and security is a priority for homeowners, and wooden fencing will meet those requirements. You will also be pleased to know that wooden fencing can be cut to your specific height requirements. Perhaps you are looking to have a taller fence at the back of your property and a shorter height in the front. With wooden fencing, you can achieve the look you want without compromising the integrity and looks of the fence.
Wooden fencing in Litherland is affordable when you use the services of a specialist company. We would be glad to be of assistance with your new wooden fencing for your property. Offering a range of different types of timber and styles of wooden fencing, our specialists are experts regarding any wooden fence. We offer an installation service too, so there is no need to worry about erecting your new fencing. For more information about our affordable wooden fencing, contact A-Line Fencing today. Our expert team is available to assist you with any queries you may have about wooden fencing.